Even though it's relatively new, Grammarly has quickly risen to become the most popular grammar checking software.  But it's straightforward to see why; it has a great free plan, it works in real-time, it's reasonably accurate, and it just works.
Even as I am writing these words in the WordPress editor, I'm keeping an eye on the bottom right corner where there revolving green thingy keeps checking my writing.
If you have been reading Grammarly reviews to find out if it has everything you're looking for in a tool, let me give you the jest right now: Grammarly is excellent, and even though it's not for everyone, you should give it a try! 
Okay, you want to learn more. Let's get this Grammarly review going!
What is Grammarly?
In short, Grammarly is a tool that checks your writing and points out grammatical and spelling errors, among other things.
Grammarly is available as an online editor, a browser extension, and even as a keyboard for your smartphone.
This tool is meant to replace a human proofreader, and even though it has got a lot of good things going for it, it also still needs improvement.
So, what does Grammarly do exactly?
Grammarly Features and Benefits
Grammarly has a range of valuable benefits and features, and they are always working on new features. Some of their features are robust and refined, and some still have a long way to do. Let's dig in.
Grammar and Punctuation
Grammarly can detect grammar and punctuation mistakes as you're writing. It can detect all levels of mistakes from basic to advanced mistakes and can make suggestions on how to correct them.
It merely underlines the wrong word with red, and by simply hovering or clicking on the word, a popup shows with the correction, and you can fix it by simply clicking on the correction.
The grammar mistakes checking is useful, but what has been a game-changer was the punctuation checker. I often write so fast that I can forget commas or not hit the keyboard hard enough on some letters that they don't register.
Grammarly always checks for commas, full stops, spaces, and so on. This means I don't have to manually go over the text after finishing my done to check for these mistakes again.
Plagiarism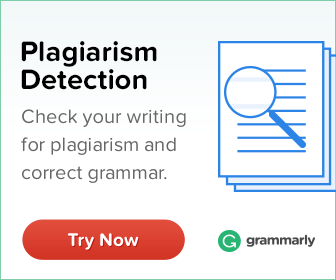 This feature is not available in the Grammarly extension for web browsers (in the time of writing this article), but it is available in their online editor. It compares your writing to billion of web pages across the web.
I have to admit that I also love this feature as it saves me the time of using a dedicated plagiarism checker. It's just more convenient to use the same tool for everything writing-related.
Spell Check
We all, even the most professional of writers among us,  have certain words that we always get misspelled. They aren't always even complicated or overly long words, but something about them makes us misspell them.
Thankfully, this has not been an issue for me for a while. Grammarly's spell checker is robust and intelligent enough. It can guess what words  I mean even If I added a letter or confused a couple of them.
It happens to the best of us, but the real-time checker makes sure they're fixed in seconds.
Readability
Sometimes writers get fancy. It's fun, we love it, but we have to keep in mind that elegant writing is not always good writing. Writing should be all about delivering the message to the readers without any misunderstandings.
Grammarly's readability checker is a good tool for that, making sure your writing style remains appropriate to your audience.
However, this feature is one of those features that still need a bit of work.
Tone Detector
At the time of writing this article, this feature was rolling out in beta, and I got to try it while writing this. It shows little emojis at the bottom right corner that represents the tone of your writing.
I can say it's pretty good, but it is in no way as accurate as it could be, and it still needs plenty of work.
In my opinion, while others may see this feature as a bit gimmicky, I think it can be useful for marketing people who like to keep the tone of their writers consistent with the tone of the brand.
How to use Grammarly
Signing up for Grammarly is super easy. Once you do, it will take you through a tour of the Grammarly editor, which we'll get back to later.
You will then be asked to set some basic settings such as the intent of your writing, the level of knowledge of your audience, the style of your writing, the emotion you're going for, and the domain.
Grammarly will use these settings to provide useful insights.
There are three main ways to use Grammarly to check your writing and writing style:
Write directly on their editor
You can write directly in Grammarly's online editor, and it will do its magic as you're writing.
This is an easy and fool-proof way, but it's not my favorite as it means you will then have to copy and paste your text somewhere else and still do all the formatting there. But I prefer to do the format, notes, comments, and so on while writing, which is not something Grammarly's editor offers, so I don't use this way.
Import your documents into Grammarly's editor
You can import your Microsoft Word document into Grammarly, and it will copy the text directly. I do not prefer this method as well and think of it as a bit troublesome because it can easily mess with your formatting.
Use the extensions and plugins
This is easily my favorite method of using Grammarly. You can install their Chrome or Firefox extension to check your writing while you're using the browser on most websites, and you can install their Microsoft office plugin to use Grammarly directly in Office apps like Microsoft Word and PowerPoint.
I find the latter to be beneficial because I don't have to worry about making mistakes while writing essays on Word, emails on Outlook, or preparing presentations.
Now Grammarly works with Google Suite as well, which means it can check your writing in Google docs, sheets, emails, and so on. This has been an incredible time-saver for many people and for me as well.
Unfortunately, their Microsoft Office plugin is still not available for MS Office for Mac OS. This is an inconvenience for Macbook users, but they have said they are working on it, and it should arrive soon enough.
Who Should Use Grammarly?
I'm going to make this very simple for you. If you write in English and want your writing to be flawless, you should probably use Grammarly.
This applies to natives and non-natives — people who learn English in College and those who have never studied grammar. Anyone can and probably should use Grammarly.
But some people really should use Grammarly consistently, and these are;
Bloggers, content writers, copywriters, and copy editors
Authors and professional writers
Academics and students
Business professionals such as HR and marketing team
People who write lots of social media posts or handle business social media accounts
Even if English is your first language or if you're a professional writer with years of experience under your belt, Grammarly can act as a second line of defense.
You can keep the extension activated as you're working and forget about it until you make a mistake, and the red underline appears. This is when you'll get the "Ah, this is why I have it on"- moment.
How easy is it to use Grammarly?
Grammarly was designed from the beginning to be a tool that helps anyone with their writing, not just professional writers. Using Grammarly is as easy as using Social Media.
The online editor is as easy to use as any other word processing software you use, the plugins work in the background and don't interfere with your workflow, and their mobile apps replace your keyboard to make suggestions as you write.
Signing up for the free or the premium version is done in minutes, and once you are signed up, you can easily activate all the plugins by signing in to your Grammarly account. You can now even use your Google or Facebook Account to sign up for a Grammarly account without having to add in your email manually.
Grammarly was designed to complement your workflow and make grammar checking an effortless process.
Grammarly and Accuracy
Language is a complicated thing. It's always evolving; there are always new names and meanings popping up; people create a unique expression and make up new words that get popular all the time.
This is why no one can say that Grammarly is 100% accurate. It's still pretty accurate and useful for certain things. Here are the things with which Grammarly can help:
Long Sentences that need to be broken or edited down.
Confused Propositions
Misspelled words
Grammatical errors
Punctuation mistakes
Repetitive words
Overuse of the passive voice
The good thing about Grammarly is that it is reliably getting better with time. Think of it as teaching a computer how to speak our language, the more we'll teach it and speak with it (use the app), the better it will get.
Grammarly Pricing – Is it worth it?
Grammarly has two plans; free and premium. Let's see what each of these plans offer and what you can expect to get when subscribing for the free plan and what you can expect to get with the premium plan.
Grammarly Free
Grammarly free gives you:
Critical Grammar checks and corrections
Critical Spelling Checks
Access to the browser plugins
Access to their Microsoft Office Addons
Plagiarism checking for text up to 500 words
Get performance stats emails weekly
Contextual spelling and grammatical mistakes
Add words to your dictionary
Access to your documents from any device
Access to explanations of grammar rules
Okay, let's get the cost off the way first;
Grammarly's premium pricing:
$29.95 if paid monthly
$19.98 if paid quarterly (You're billed $59.95 every three months)
$11.66 if paid annually (you're billed $139.59 once every year)
They also have special pricing for education (staff and students):
Grammarly cost for Education:
5 Users – $500 annually
10 Users – $800 annually
20 Users – $1,200 annually
20+ Users – Custom quote
With the premium version, you get everything Grammarly has to offer, and this includes everything in the free version, of course, plus the following:
Readability Checker
Vocabulary enhancement suggestions
Plagiarism detection
Genre-specific style checks
Should I get Grammarly Premium?
This is a challenging question and one that I can not answer for you. However, I can still guide you to make the right decision with some thoughts that I think you will find useful.
Who should Get Grammarly Premium?
If you are a business owner that produces content on a regular business, say an eCommerce business that invests resources into their content marketing, then you definitely should get Grammarly premium for your staff.
If you are a freelance writer that specializes in YMYL* niches, then Grammarly premium could be indeed helpful to you. Grammarly is also worth it for copy editors who have to go through lots of written content every day.
What Grammarly premium offers, in my opinion, is the convenience of having one tool that does many things. Being able to check for spelling, grammar, tone, and plagiarism in one place can save you lots of time.
Professional writers who make a living producing content for many clients will also find Grammarly premium worth the cost.
Who should not get Grammarly premium?
Anyone who doesn't make money writing should probably stick with the free version. Students who are already in student debt should be thinking of spending their money somewhere else.
Content writers and copywriters who write for fun or as a side hustle will be just fine with the free version and will rarely find themselves in need of the premium version.
Fiction writers should not use Grammarly at all … here's why: 
Can Grammarly replace a human proofreader?
No.
Grammarly can not replace a human proofreader. Writing is a creative process that doesn't always follow strict rules and guidelines, and creative writers will often break the rules.
Grammarly doesn't understand that. Grammarly is still a piece of software and not an actual artificial intelligence that can understand how the human brain works. Such an A.I still doesn't exist.
There are instances where Grammarly will be more of a nuance than a useful tool, such as when writing fiction. Can you imagine J.K Rowling using Grammarly to check on her writing while making up all these weird names and magic spells? It would've been a nightmare.
Grammarly can't always understand the context, and can never have the level of understanding for the text as a human proofreader does.
But Grammarly can still help! 
You can use Grammarly's dashboard to send your text to a human proofreader who will do it for $0.02/word.
But people who write the sort of content that needs a human proofreader already know all of that. Proofreading is still a job that needs a human brain, but I don't believe this will stay the case for a long.
In a nutshell
Grammarly from a writer's perspective
Is Grammarly perfect? No. Should I use it? Absolutely!
Grammarly is useful when it needs to be, but it is in no way a perfect tool. However, it is still the best at what it is. The thing about Perfection in Language is that it still pretty much needs a human mind or a mighty AI, and Grammarly is neither of these things.
Grammarly is a nice addition in a busy world where everything happens quickly. It works as a safety net to make sure your writing is still correct even while you are racing time to finish the essay or report to deliver it on time.
Speaking of saving time, these free and open source time tracking software can be of great help in keeping your productive and efficient, I recommend you check them out before you go!
I believe almost everyone should try it and see how much of a difference it makes, at least to reduce the numbers language nerds like myself have to write "It's you're* not your*".